Fan of Saved by the Bell? Bet you didn't know these fun facts
Every afternoon I would flick on the telly after school and watch Saved by the Bell. Also Degrassi High – because, BEST!
I wanted to be Kelly and no one made me snort-laugh more than Screech! In fact, I loved every character at Bayside High, including principal Belding.
Ah, now who else is feeling nostalgic?
Recently Saved by the Bell celebrated its 30th anniversary (yep, we feel old) and E! News has shared a few secrets with die-hard fans.
Read on if you were also one.
Good morning, Miss Bliss
Originally the iconic school show was going to be called Good Morning, Miss Bliss focusing on teacher, Miss Bliss – yawn.
Thankfully after a season of Miss Bliss, the show became Saved by the Bell – making the school kids the stars, and all of our teen drama dreams come true.
One actor had his first kiss on set
It may not come as a huge surprise to you that the lanky actor with the high-pitched voice who played Screech, Dustin Diamond, had his first smooch on set.
What might surprise you though, is that this was with none other than Tori Spelling. Later, she would go on to become a pin-up girl for Beverly Hills 90210.
Go Screech!
There were LOTS of off-set hookups
Ever wondered if Kelly and Zack got it on when the cameras weren't rolling? The answer is yes, and also so did all the other co-stars.
As Mark-Paul Gosselaar, who played Zack, told People in 2009:
"All of us dated at one point or another – it was incestuous!"
Jessie was supposed to be a speed addict
Remember when Jessie declared, "I'm so excited!" after popping caffeine pills to pass an exam? Yeah, well the original script was a little more hardcore.
"What fans don't know is that, when I originally wrote the episode with Tom Tenowich, Jessie was hooked on speed, not caffeine pills," says producer Peter Engel.
"But Standards and Practices, the censorial department of NBC, vetoed it, saying speed was too serious for Saturday mornings."
Imagine?!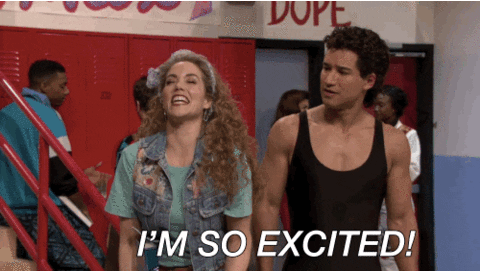 Screech made a sex tape – well the actor did
Yep, that's right.
Dustin Diamond released an x-rated naughty tape in 2006 called Screeched – Saved By The Smell – bahahaha!
But in 2013, he revealed he regretted it.
Oh, Dustin, with that title, we don't!
"The sex tape is the thing that I'm most embarrassed about," he told OWN in the interview.
Oh, and he went to jail
Dustin also stabbed a man during a brawl on Christmas day in 2014. After three months in prison, he was released on probation. But then he violated this by using oxycodone.
So yeah, not so nerdy and pure after all.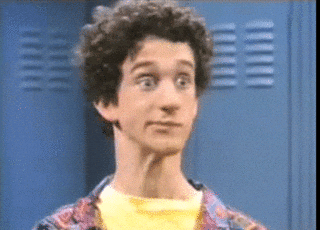 The cast are still BFFs
Tiffani-Amber Thiessen shared this snap of her and some of her SBTB co-stars and their partners catching up for dinner. Oh, and she captioned it, "Friends forever".
That's right. THEY ARE STILL BUDDIES!!!
Jennie Garth was almost Kelly
It's hard to imagine any other actor than Tiffani-Amber Thiessen playing Kelly, but it could have been Jennie Garth who was also up for the role but missed out.
Jennie went on to play another Kelly in Beverly Hills 90210, and when her SBTB contract was up, Tiffani joined the 90210 crew as well.
Mr Belding JUST graduated
The actor shared this pic of him graduating from the University of Tennessee at Chattanooga at 65.
So now he's qualified for the role.