New mum Kylie Jenner spent $10k on meal deliveries last year – and we get it
Who can even manage to get to shops or cook dinner in a timely manner when you have a new baby? Certainly not us and also it appears not Kylie Jenner who is mum to one-year-old Stormi.
Sibling snacks
Kylie's favourite on-demand bring-it-to-me-now platform – Postmates – shared her home delivery habits on their blog and honestly they're fascinating and also making us hungry.
For starters, not only does Kylie order for herself, she exchanges snacks and sips with her brother, Robert Kardashian.
"Rob and I probably Postmates the same," Kylie told People magazine.
"We Postmates each other things to try all the time, like new drinks and stuff," she revealed.
It's highly likely that she also orders for her sisters who are obsessed with eating giant containers of salad and most certainly do not go pick those up themselves.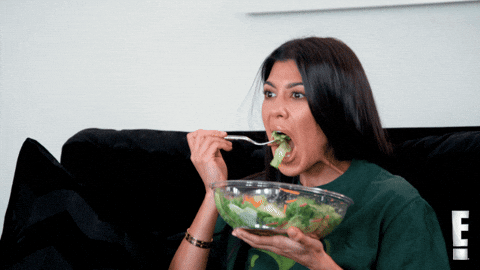 10am is peak hour for Kyles
Postmates revealed that Kylie likes to use their service to order breakfast – with 10am being her peak order time – and that she logs on to grab food three or four times a week.
"Having joined Postmates just over a year ago, Kylie has quickly joined our top percentile of customers by using the app, on average, every other day of the year," a Postmates rep writes.
---
Read more about Kylie Jenner:
---
Kylie ordered from "65 different merchants" and holds "the unofficial record for most Postmates orders in a 10-minute window (4)."
That's right. She ordered four times in ten minutes, and look we get it because sometimes you want pancakes AND bagels AND chia pudding AND a smoothie and they might not all come from the same place.
Or perhaps everyone in her house likes different things and she was simply trying to feed them all and calm the chaos and honestly we gettttt itttt!!
Before Stormi was born Kylie was every pregnant woman with the very deep hunger and serious cravings.
"Kylie's order 7 days before giving birth included Oreo McFlurrys, 10pc chicken nuggets, and French fries," the Postmates folk say.
Best boss ever
Some of this 10K spend was Kylie ordering food for her creative team. Postmates said she did this one day last year during a photo shoot and boy her work gang chose deliciously …
10:00 AM, cream cheese bagel from The Bagel Broker
2:07 PM, 6-pack macaron ice cream sandwiches from Milk
2:11 PM, penne bolognese from Mauro's Cafe at Fred Segal
2:13 PM, taquitos, Mexican rice, enchiladas and a tostada salad from Casita del Campo
2:17 PM, truffle "Impossible Burger" from Umami Burger
Swipe right on the beer bong
Kylie apparently celebrated her birthday with some varied and quite bonkers home delivered help too.
"On Kylie's 21st birthday she received several custom birthday cakes, floral arrangements, a motorbike, and a beer bong," Postmates reveals.
"She even received a '50s Rolls Royce from Travis Scott. But before being showered in gifts, Kylie Postmated herself a cream cheese bagel because it's the little things that matter."
A. Rolls. Royce. (Obviously this was on Travis' tab because it'd rack up a little more than 10k!)
The highs and the lows
Postmates say not all of Kylie's deliveries are lavish, but they very often are.
"In the past year, Kylie has spent more than $10 000 on Postmates," the platform confirms.
"Her most expensive order consisted of Don Julio Añejo 1942 Tequila while her smallest order was a bottle of Smartwater and a single carrot."
A. Single. Carrot.