Kristen Bell had a heart to heart with her kids to stop them swearing
Actor Kristen Bell rejects the notion that she and husband Dax Shepard are a 'power couple', explaining that they're barely keeping it together and that much of their parenting is a sort of a refined stabbing in the dark.
"We really just get by"
It's a confession that will strike a chord with many parents and couples and is refreshingly typical of how this pair project themselves.
"We really just get by. We feel, you know, a little vulnerable just as much as everyone else does," Kristen told E!News recently.
Indeed this kind of openness is one of the official pillars of the couple's relationship. When Kristen recently doled out some marriage tips to an inquiring stranger, being open and honest was tip-top of the list.
"Vulnerability always begets connection and intimacy," she advised. "Stay vulnerable with each other."
---
Read more about Kristen Bell:
---
"We don't feel powerful"
It, therefore, stands to reason that when her co-star, The Good Place's Ted Danson, dubbed Kristen and Dax couple royalty, she was quick to reject the notion.
"I don't know what we have power over. It's certainly not each other or our children. We don't feel powerful."
That said, there is a certain power in being authentic, and this couple displays refreshing Hollywood truth-telling on the reg.
"We have a very healthy marriage, and we got there by doing therapy when we needed it, and constantly doing fierce moral inventories," Kristen told People Magazine last year. "We both take responsibility when we are wrong, and I think it is easy to work with him because I married him because I enjoy spending time with him and I trust him."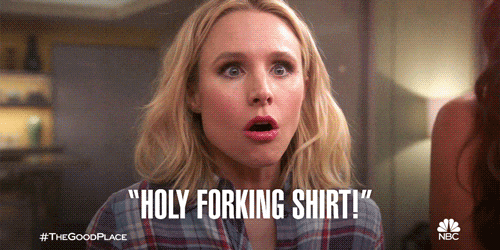 Spice it up?
Dax and Kristen are dad and mum to five-year-old Lincoln and three-year-old Delta, and the Bad Moms star says they're prone to a little truth-telling when it comes to their daughters too.
For instance, she told E!News that spicy chatter is a thing that can happen a little too much at home, and they've apparently drawn some commonsense boundaries when it comes to their daughters mimicking their language.
"We don't limit ourselves as much as we should at home," she admitted. "The way we explain it is, 'Look, you're five years old. You can't drive my car. You can't vote. You can't drink alcohol. You can't swear.'"
I mean … it makes a lot of sense to us, but did Lincoln and Delta get the memo?
"So far, they've obliged," Kristen said proudly. #MissionAccomplished