Fan of 'Workin' Moms'? Then we need to talk about 'that scene'
How funny is Workin' Moms on Netflix?!
I bloody love it.
If you've also binged-watched Seasons One and Two, and are now partway through Three (and for those who don't know, this dropped last Thursday!), then you might also be having flashbacks to that balcony scene.
Oh. My. Gawd. THAT scene.
Spoiler alert: I am about to go into all the dirty details of here of episode three in Season Three. If you're not there yet, go away, watch and come back later! We have things to discuss!
Dude, it's a hit
From the minute I watched the main characters compare their boobs in Mommy and Me group, I knew this was the show for me.
"They're a little bit deflated, but they're not throwing in the towel," says Kate.
Yep. I'm hooked.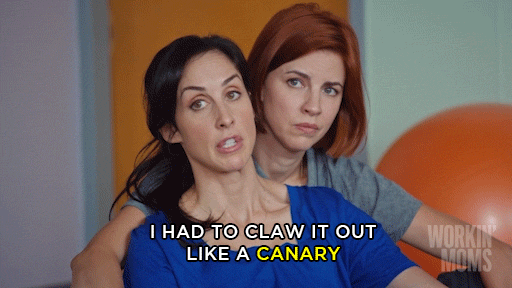 Workin' Moms is rude, it's crude, it's painfully funny and thanks to all-female writing team, it's relatable too. I mean, deflated boobs – hear, hear!
While the show isn't a totally realistic portrayal of motherhood for many of us – who can afford a full-time nanny for instance, I love how refreshing honest it is.
"I might have a teeny tiny drop of postpartum depression" declares a clearly off-the-rails Frankie, for instance.
I also adore all the quirky characters, especially hilarious and fiercely protective Anne.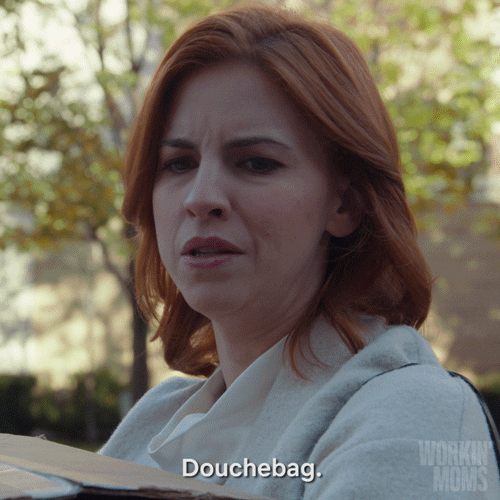 Workin' Moms is my new me-time go-to, for that time after I've put my little loves to bed and am ready to indulge in that block of chocolate I've hidden away.
Season Three
It's no surprise that Season Three is shaping up to be the show's best yet.
It picks up where it left us – on a cliffhanger. Is Kate preggers from that bathroom romp with Nathan? The one JUST before she discovered he's been cheating on her with 'mean nanny'?
Why yes, yes she is.
And not only is she about to have a newborn, she also has a new business, a new apartment, and a toddler in tow.
But that scene …
When Kate decides to go 'there' with her much younger, male assistant, Forrest (who looks like Justin Bieber), I giggled.
Ah, Kate.
But not long after I was laughing with my eyes so wide open it hurt.
I'm talking about that mortifying balcony scene.
Did you also watch it through your fingers?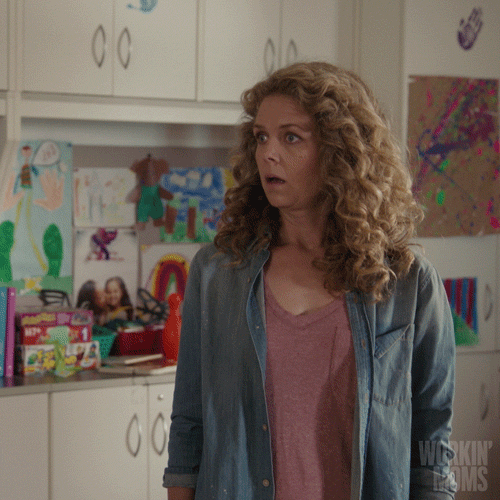 Let me recap
After Kate arrives on Forrest's doorstep, who happens to be the son of her former boss, Richard, they are soon getting down and dirty in Forrest's childhood bedroom.
As it turns out, Forrest has a weird breastfeeding fetish (as well as a racing-car-themed bedroom we might add. GET OUT OF THERE we want to scream at Kate).
"Come on, just a taste, please?" he pleads.
So unclipping her mat-bra, Kate obliges. After all, Forrest promises to "make it hot for you" – ewww ..
He starts guzzling.
It's repulsive and so wrong, but yet we can't look away.
But this is nothing compared to what's about to happen.
Richard comes home and we know where this is about to go … Kate hides out on the balcony while Forrest pretends to be asleep.
When he asks why it stinks, Richard goes outside to get some fresh air and sees, well:
Kate.
Argh, we can't handle it! There she is, not wearing undies, with her hands covering her bits and a milk-stained bra, all in FULL VIEW.
CRINGE!
I watched this episode a few days ago and I haven't been able to unsee it. Have you?
Some of my thoughts while this horror was unfolding before my very eyes were:
Please don't let that barely-of-age kid drink your baby's milk, Kate! It's hers! HERS. What if she goes hungry?
Oh she didn't. Oh yuck. Nooooo.
I bet his dad is going to catch them doing it. Hehe.
Yep, here he is. Wait, but where's Kate? Oh she's escaped.
Nope. SPRUNG!!! Hahahaha! I'm dying. This is too funny.
Oh I so have that maternity bra, too! Yep, that exact one all washed-out white with milk stains.
Now I'm about to binge-watch the rest of Season Three and I can't wait. But I don't think I could handle another scene like that.
My c-section scar might just tear open from laughing.
Workin' Moms, you are the best antidote to a day of mumming, working and juggling.