Did MAFS newbie Susie really call her daughter Baby? Yes she did. Here's why
If you've been watching Married At First Sight like millions of other Australians, you have probably pondered the name of 'intruder bride' Susie's little girl.
Nobody puts Baby in the corner
Queensland mum Susie Bradley told The Daily Telegraph that she's signed up for MAFS because she's looking for a decent bloke who will love both her and Baby and "accept that we are a package." She's hoping to find happiness, explaining that she "can't do it alone".
During her first segments on the show this week, Susie told viewers the four-year-old's name is Baby.
Twitter – the home of robust discussion about MAFS – responded in confusion and many figured this was a sort of pseudonym to protect the child's privacy.
"I think Susie has deliberately omitted Baby's name as a means to protect her daughter from ppl knowing her real name. I do not think the girl's name is Baby," one Twitter user posted, and that seemed to make a lot of sense.
Thus, plenty of MAFs fans simply shrugged it off and played along, groaning as Susie's husband Billy joked that "nobody puts Baby in a corner" during the pair's tense wedding reception.
"he's quite weird & odd…" that's coming from someone that named her daughter 'Baby' ? #MAFS

— Dexter (@DexterDioxide) February 27, 2019
Naming your child "Baby" is a level of lazy I've yet to reach #mafs

— liotta at the end of goodfellas (@prettylittty) February 25, 2019
I think Susie has deliberately omitted Baby's name as a means to protect her daughter from ppl knowing her real name. I do not think the girls name is Baby. #MAFS

— sLaPdAsH_mama (@susiepkmelb) February 25, 2019
"We should just call her Baby"
Turns out that Baby is actually not a fake name, but rather the name Susie and her ex – of 18 months – gave to their baby girl. It's one that Susie had shortlisted for many years.
"When I was in high school, I used to write a list of names I liked for my children and that was always on my list," Susie explained to The Daily Telegraph.
"Then when it came to naming our daughter, we just weren't set on anything so one day I jokingly said to my partner at the time, 'we should just call her Baby,' and he agreed,"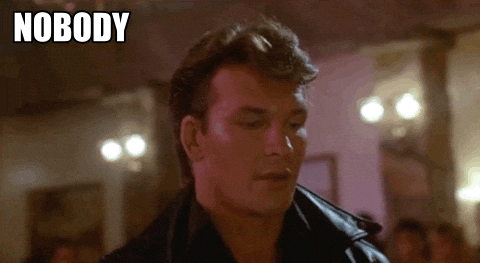 Susie says that on her Medicare card "it has her name, Baby, but then it has a full stop after it which signifies she's not a baby, her name just is actually Baby."
So is there form for naming someone Baby? Apparently, there is.
There's an Indonesian actress called Baby Constance Irene Theresia Huwae and an Indian author called Baby Halder.
Apart from that, it seems to mostly be a stage or screen name for the likes of the Spice Girls' Baby Spice and Dirty Dancing's Frances Baby Houseman. Apparently it's Princess Beatrice's nickname as well.
It's hard to know what adult life will be like for a grown woman called Baby … Possibly littered forever with creepy greetings or Dirty Dancing references?
That's a whole other nightmare discussion and frankly, it's hurting our brain.