Heartbroken Khloé Kardashian put her baby girl first when giving birth
The latest episode of Keeping Up With The Kardashians shed more light on how Khloé approached the birth of her baby in the midst of finding out her partner was cheating on her with multiple women.
"I chose to be mature and strong for True"
The Revenge Body star went into labour back in April, shortly after partner Tristan Thompson's infidelity was revealed. We now know that after discovering what had gone on, Khloé was still very keen for him to be present at the birth.
Khloé explained that she wanted to put her daughter first and it was important to create a loving environment in the delivery room. She took the high road and gave her baby the welcome "she deserved".
"I chose to put my feelings aside for the birth and to try and have as much positive energy that I could. My only thought was about the birth of my daughter," Khloe told her followers on Twitter.
"I wasn't going to let ANYONE disrupt anything less than what she deserved. Joyous love. I chose to be mature and strong for True."
That said, Khloé admits she wasn't herself in the midst of all that turmoil.
"I waited for this day for so many years! I know now, looking back that I was in shock because I couldn't believe that this would ever happen to me but I'm still very proud of myself for how I handled everything. True gave me the peace and strength I needed."
---
Read more about Khloé:
---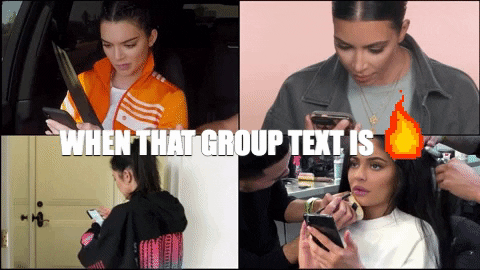 "Khloé's going to die"
As the cheating scandal broke and articles popped up online showing images of Tristan with other women, Khloé's family began group texting each other in shock.
They weren't sure how to best tell Khloé who was nine months pregnant at the time and already having mild contractions ahead of giving birth. Suffice to say everyone was horrified at Tristan's behaviour.
"There's video of Tristan making out with a girl last night," a mortified and measured Kim says after receiving a text message in the middle of a piece to camera.
"Khloé's going to die. She's literally going to go into labour over this."
"I can't even imagine being in Khloé's shoes, just how reckless it all seems —this is really shocking and obviously heartbreaking," sister Kourtney says. "The whole thing makes me disgusted."
Us too Kourt. Us too. #TeamKoko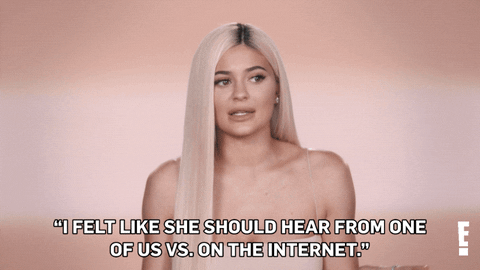 "I can't be calm. Not right now."
Khloé – who was in Cleveland when sister and new mum Kylie Jenner called her to break the horrible news – had wanted to fly home to Los Angeles to deliver her little girl, but was too late in her pregnancy to fly.
A distraught, disbelieving and disappointed Khloé broke down – and promptly booted the pro basketball player out of the home they share.
"She kicked him out. He left the house," a shocked Kendall reveals in this week's KUWTK episode. "We're trying to get her to come home."
"You just have to worry about yourself right now and be calm," Kim says during a phone call with a crying Khloé.
"I can't be calm," Khloé responds. "Not right now."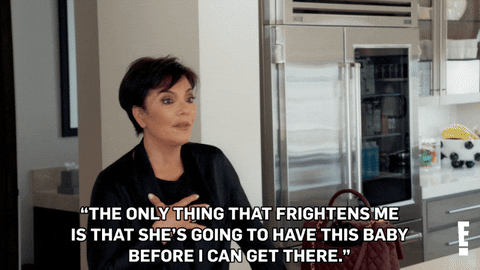 "He'll never change"
Kim then explained that the published stories are the tip of the iceberg when it comes to Tristan's fidelity and his behaviour constituted the biggest red flag in the history of red flags.
"Honestly, so many more stories are coming out," Kim says. "So many friends are calling me with so many more things."
"I told her, 'What are you going to get out of him? Think about it. You're going to be worried and nervous and have an insecure life, because if he's not faithful now, he'll never change.' "
"I didn't want any negativity"
For Khloé, the most important thing was to push on with her original birth plan.
"It's like, everyone wants me to make a decision right this second and I just want to go and give birth and focus on that and try to enjoy this and try to enjoy it with him, as crazy as that sounds," a distraught Khloé tells Kourtney as the family plan their flights to Cleveland.
"I want to enjoy this with him. I don't want any negativity in the delivery room. I don't want anybody to talk about it, make me feel uncomfortable or make him feel uncomfortable. Let's just act normal. Give me a minute."
"You are f*cking with all of us when you disrespect one of us"
And while Khloé was keen to dial down the drama and have her baby surrounded by love, that doesn't mean that Tristan was off the hook for his horrendous behaviour. Khloé attempted to balance the health of her baby and her stress levels with what sounds like a pretty hectic dressing-down.
"Thank God a camera was NOT with me in Cleveland!!!" she told a follower on Twitter. "I won't put in writing what I did but let's just say he's LUCKY I was 9 months pregnant."
Kourtney says that making sure Khloé's hopes for a no-drama birth provided challenges for family and friends.
"I know how important it is for Khloé to have Tristan there, and I actually really respect that," Kourtney said.
"But it's definitely going to be awkward. It's going to be hard to even look at him or even be in the same room with him. It's like, you are f*cking with all of us when you disrespect one of us."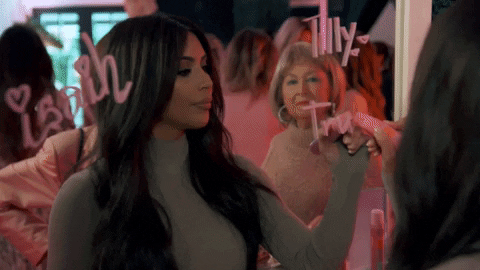 "The ultimate gift"
Khloé says her faith – and her determination that True's birth would not be marred by these stressful events – got her through.
"Amidst the tough times, I have been blessed with the ultimate gift, my sweet baby True who has changed my life in ways I never could have imagined," she told followers.
"I still remember the pain of that. But God prepared me for this and gave me strength so my baby True wasn't affected. I was strong enough to put my feelings aside so she only felt love!! Nothing else."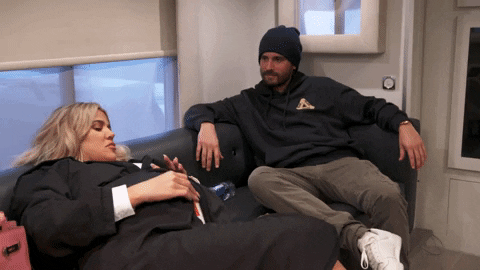 "Free yourself from negative people"
It's hard to know how Khloé's faring seven months after her baby arrived, but it can't be easy and her social media points to a potential separation.
In an Instagram story posted recently, she wrote: "Free yourself from negative people. Spend time with nice people who are smart, driven and likeminded. Relationships should help you, not hurt you. Surround yourself with people who reflect the person you want to be."
And on Twitter a week or two ago she wrote that she was "not the woman I was 5 months ago" which have many thinking she's ready to move on.
Watch this space. Or as a furious Kim said while she was waiting to fly out and assist Khloé at her birth – "To be continued mother*cker" (in which said MF is Tristan.)
#ByeTristan
This saga isn't over yet, dolls. We'll see you in 2 weeks. ✌️ #KUWTK pic.twitter.com/jYGmEaEzAx

— Kardashians on E! (@KUWTK) November 5, 2018