(She's pregnant in the above image!) We always knew Serena Williams was a superwoman, but her announcement that she's 20 weeks pregnant – meaning she won The Australian Open whilst up the duff has taken things to the total next level.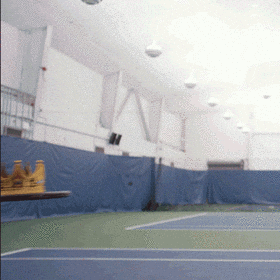 Surprise!
Serena took to Snapchat to reveal a tidy baby bump and the news that she's already five months in.
The tennis ace got engaged to the co-founder of Reddit, Alexis Ohanian in December and they're pretty much the very definition of a modern power pairing.
Her bump is totally fabulous, but we're still stuck on the fact that she (and her baby) took the Open title in the early stages of growing a baby. When many of us are barely able to get out of bed due to crippling exhaustion and various pregnancy aches and pains, Serena was all bouncy business as usual, heading into one of the world's biggest tennis tournaments without batting an eye.
She went on to win her 7th Australian Open title against her sister Venus – and 23rd Grand Slam. No biggie.
Serena Williams won her record 23rd Grand Slam title while pregnant. I stand up twice an hour because an app tells me to.

— shauna (@goldengateblond) April 19, 2017
It's getting hot in here
Not only did Serena tackle a huge event when most of us would be on the couch eating grapes, pondering whether our baby was as big as a peach or a pear, she was ready to brave the elements expectantly, too.
If you live in Melbourne – or (oddly) follow Melbourne's weather – you will know that the Australian Open usually plays out in some of the hottest weather the city experiences. We checked the weather archives and it was 31 degrees the day of her win. Other years have seen the Open play out in very high 30s temps.
Couple blistering days with peak athleticism and a tiny baby on board and you'll soon realise that Serena's pregnancy and win are no mean feat.
Serena Williams was pregnant when she won the Australia Open in Jan. but I cant even get out of bed when I'm on my period. Sis is superwoman

— Taryn Finley (@_TARYNitUP) April 19, 2017
Serena Williams won a grand slam while she was pregnant so every man should probably shut up about everything forever.

— Travon Free (@Travon) April 19, 2017
Looking for clues
And what of Venus? Surely she knew?! We're going over her post-match chatter about her sister with a fine-toothed comb, looking for pregnancy hints.
"Congratulations Serena on number 23," Venus said after Serena's January win.
"I have been right there with you, some of them I lost right there against you. It's been an awesome win. I'm enormously proud of you, you mean the world to me."
We're fairly sure this is code for "Oh my god! You are pregnant and you BEAT me, girl! You are amazing!" She basically said that, right?
Huge congrats to Serena and Alexis on their impending first bub!