Stop right where you are. We've found the winner of the internet and she's hiding behind this bottle of psychopathic shower gel.
Content Note: There is some fruity language contained in this lady's post. It may cause you to splutter your Prosecco. Don't say we didn't warn you.
Stern warning
This story finds us on the I Know, I Need To Stop Talking Facebook page. This page is the brainchild of blogger and mum Kathryn Kendall, and it's where she shares her thoughts on the disappointments and delights of modern life and parenting, in the aforementioned fruity way.
On this particular day, Kathryn had been attempting to tidy herself up, when things took a turn for the worse. Here's how things played out in Kathryn's bathroom:
"I took the Mint and Tea Tree Shower Gel and began to work it into a lather. I applied it to first one leg, then the other, and shaved them diligently. (Yes, feel free to be impressed at my commitment to body defoliation at 6.45am on a Wednesday morning. I was too.) So far, so good."
SOS! SOS!
That does sound good, because at this time of year we're just shaving our ankles. But enough about us… back to Kathryn and her quest for tidy:
"I washed my arms and shaved underneath them. I washed my neck, breasts, stomach and back. Thus far, it had been a positively first class bathing experience," Kathryn wrote and we were totally rooting for her because being a mum and being clean is really hard.
Do you know what happened next? There was a GIANT plot twist. Kathryn again:
"And then. AND THEN. Oh. Dear. God. MY VAGINA WAS ABLAZE."
Kathryn wrote a whole other very descriptive paragraph about the experience of blazing vagina and let's just say there was a LOT of flapping going on. (Click the Facebook update above to read the flappy bits.)
Perplexed, Kathryn looked for answers:
"I had a quick look at the ingredients list to see if it contained gasoline. It did not," Kathryn wrote, explaining that 12 hours later things were feeling less fiery and she only had a severe case of PTSD to contend with. Phew.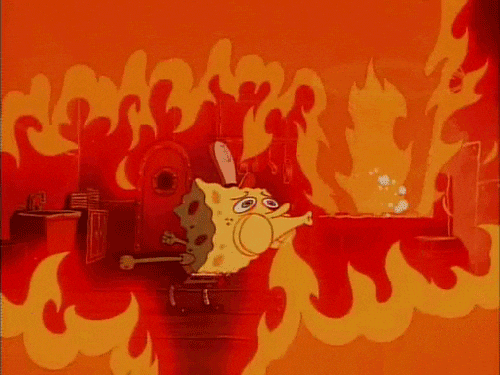 Beware "winky pins and needles"
Commenters on Kathryn's Facebook page did not have answers, but were 100 percent onboard with her freaked-out, fiery post. In fact, many had actually experienced the very same burn and detailed their agony, outrage and stings in similarly fruity style:
"I used this on my little boy when he was tiny, didn't think about the effects. As soon as I had scrubbed him clean he announced that his 'winky had pins and needles'. He sat for an hour with a cold flannel on him and still likes to remind me of his trauma," wrote Facebook follower, Fiona Neale. She's obviously never lived it down. Thanks Original Source.
"Bought this for my boyfriend to use when he stayed at mine thinking he'd be impressed with the 'poshness'. Lit his b*lls on fire something rotten. Thankfully it wasn't a deal breaker and we're now married," Hannah confessed. Thanks Original Source.
"If you think that's bad you should try the exfoliating version with walnut shell!! It's like fire with built in shards of glass!!" Lauren warned. Thanks Original Source.
"Ahh. I see you too have walked through the burning door of pain. You have my sympathy.
When I used it in the area a gentleman never discusses in public, I can only describe it as like slowly lowering my equipment into a soup pot of boiling road tar," Tim sympathised. Thanks Original Source.
I don't think you're ready for this gel-y
In the wake of her difficult experience, Kathryn had a stern warning for the makers of the spicy product.
"May I suggest a rebranding of the front of your bottles of Mint and Tea Tree Shower Gel? Something along the lines of the following: '7,927 tingling leaves which will accost your genitalia until it screams for mercy.' If nothing else, it will certainly stand out on the shelf."
Luckily, all's well that ends well, because Kathryn's privates are feeling strangely rejuvenated.
"Thanks for brightening up my morning. And my front bottom, which has never been so lively," she summed up.