Sometimes it feels like the whole world is crushing on Canadian Prime Minister, Justin Trudeau, and when his family's Instagramming shots like this, it's not hard to see why.
Family guy
Not only is Trudeau famously funny, compassionate and reasonable, unlike many other heads of state, he seems to be pretty down-to-earth and connected to the realities of family life.
This weekend saw rainy days in the PMs home town and he took to the basement of his residence (Rideau Cottage) with a paintbrush and his kiddo gang to work on a family mural. A pyjama-ed Trudeau is seen busting out some creative moves on the basement wall. He's assisted by equally pyjama-ed 9-year-old Xavier, 8-year-old Ella-Grace and 3-year-old Hadrien.
Hadrien seems quite keen on diverting his brother and sister's attention to the rather chunky puzzle he's clutching, but his siblings paint on, creating a seaside scene featuring a castle, glittery sun and extremely leafy tree. It's a motif delightfully reminiscent of a 90s fish and chip shop wall and we couldn't love it more, if we tried.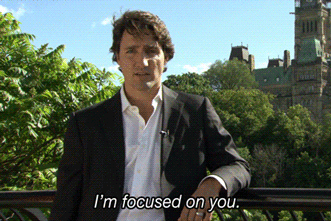 Nothing better!
Trudeau's wife Sophie posted the cute image to Instagram, captioning it with an excited vote-of-confidence for her family's art skills.
"What did we do after staring at the beige basement walls on a rainy day? A mural!!!! Nothing better than art and colours to wake up our spirits," she wrote. It's yet another reason to love the Trudeaus.
Justin and Sophie have known each other since they were kids. Sophie was a classmate of Justin's younger brother, Michel and the pair reconnected in 2003, going on to get engaged in 2004 and marrying in 2005.
Interestingly, Sophie was not the only notable school-friend connection in Justin's orbit. Friends star Matthew Perry admitted that when he attended the same school as the now-PM, he and some friends beat Justin up in the school yard. Justin has challenged Matthew to a rematch.
I've been giving it some thought, and you know what, who hasn't wanted to punch Chandler? How about a rematch @MatthewPerry?

— Justin Trudeau (@JustinTrudeau) April 1, 2017
Relatable?
Despite their lofty status, and the fact that he himself is the son of former PM Pierre Trudeau, Justin's family life with Sophie and kids looks pretty relatable and down-to-earth.
There is smooching…
There is activewear…
There is pedalling…
There is larking about in boats, even…
We have to admit we're keen to see more of life at the Trudeau's, especially if there are pyjamas involved.