A US mum has gone where no mum (as far as we know) has gone before, heroically pulling together an awesome Mrs Doubtfire party for little boy Evan's birthday.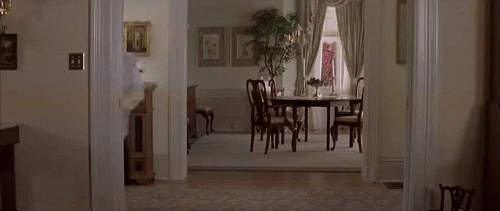 Happy Doubtfire to you!
Laura Kowalski of Michigan told Today that the Robin Williams-starring flick Mrs Doubtfire is Evan's favourite film – and indeed that her son is quite the 80s and 90s movie buff.
"One of Evan's favorite things to do is watch movies, so we watch a lot of movies in the evening to wind down," she revealed.
"He likes classics, like Home Alone or Matilda, so about six months ago, I showed him Mrs. Doubtfire. He loved it. Just loved it," Laura said. And who can blame him?! #ClassicWilliams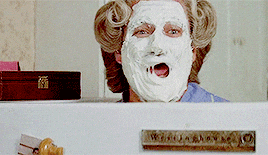 The struggle is real
A couple of weeks before Evan's big day, Laura realised she needed to spring into action and plan his birthday party, quick smart. When she asked her son about a possible theme, Mrs Doubtfire was his firm but fair answer.
"Nothing was going to change his mind," Laura explained. The slightly perturbed mum then set about Doubtfire-ing up an appropriated celebration. Surprisingly (LOL), Pinterest and Etsy yielded little when the now mildy stressed mum began searching for possible decorations and favours.
Luckily, a local cake shop rose to the challenge – not wanting Evan to be denied his birthday wish. They made a really interesting Mrs Doubtfire cake, as you can see. (Below)
Now the family were on a party roll.
It's all in the detail
They themed other celebratory elements in line with Evan's favourite scenes from the movie – and everyone in the family pitched in for Evan.
Laura's mum made fruit kebabs – a nod to the 'run-by fruiting' scene in Mrs Doubtfire. Laura's cousin drew a cool caricature of the Robin Williams character to decorate party bags (which they adorned with the Doubtfire-famous phrase "Thank you for coming, dear" and personalised.)
The resulting super-special party made Evan beam and a lovely time was had by all!
What a great mum, and how ace that everyone worked together to make Evan's weird-but-great party dream come true!
Happy Birthday, Evan!
---